The 'Thermodynamic Magic Box' from Magic Thermodynamic Box is a revolutionary, British made thermodynamic hot water heating system.  The 3rd generation of the product has now been launched featuring major improvements in performance, and it remains the only retro-fit thermodynamic system made for the British climate.
Key Features
Retro fits to existing cylinder
Compatible with both vented and unvented systems
Tested proven technology
Works day and night all year long
Generates hot water in all weather
Minimum maintenance required
Significantly reduces carbon emissions
Heats water to 55
Panel can be mounted on external walls or roof
5 year manufacturers guarantee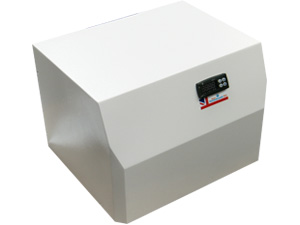 How It Works
The aluminium panel circulates the refrigerant liquid where energy is absorbed from the ambient temperature.
This transforms the liquid into a gas, which carries the heat energy to the Thermodynamic Magic Box.
The Thermodynamic Magic Box compresses the gas which increases the temperature.
The spent gas reverts back to a liquid which flows back in the panel, allowing the process to repeat.
Simultaneously, a water pump pulls cold water from the cylinder into the Thermodynamic Magic Box.
This works as a heat exchanger which returns hot water to the cylinder.
This flow continues until the water in the cylinder reaches 55°C.
Once this is achieved the system goes into standby mode.