Lease-free solar buy back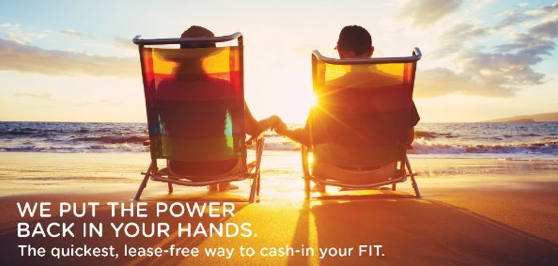 We have partnered with the UK's premier platform for LEASE-FREE solar buy-back.
If you are an owner of Solar PV, we would like to present you with a unique opportunity to sell your feed-in-tariff (FIT), whilst continuing to enjoy free use of the energy generated by your PV system. Furthermore, your PV system will be monitored and maintained for FREE for the full term. The fully-inclusive maintenance service includes the free repair and/or replacement of any failed or faulty components.
Our unique process puts you directly in front of the fund; meaning that you will receive payment in as quick as 14 days after sign up. Remember, this offer is different to other solar buy-back offerings as it does not require a lease and therefore no mortgage provider consent is necessary (processes that could take around 3-4 months).
Whether you have just moved into your new home, or you intend to sell, or perhaps you can just think of something useful to do with some extra cash; this is the perfect opportunity to realise an early cash out value from your investment in solar PV.
If you would like to receive a FREE valuation, kindly contact us on 0800 334 5182 or info@orbitsolar.co.uk and have your (1) current generation meter reading and (2) the date of installation handy.
We are standing by to assist you every step of the way along our hassle-free process.