Optimise PV Immersion Control – making use of excess electricity.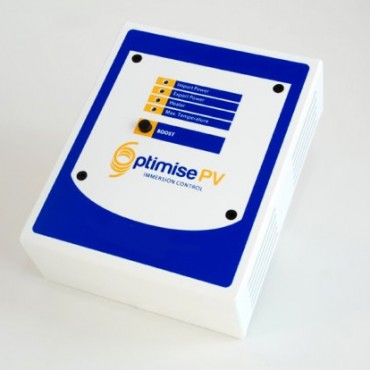 Optimise PV is a cost effective way of utilising excess power from the PV system and converting it to free hot water.
LED indicators allow the home owner to know the status of the unit and the boost button allows for an additional over ride if required.
OptimisePV is easy to install and the power sensor is easily extendable allowing for maximum flexibility when positioning the unit.
Wired and Wireless options available.
Features:
Power saving starts from 70 watt
Informative LED display showing current status:
– Import Power
– Export Power
– Heater
– Max temperature reached
Accurate power measurement and heater control
Fast response time for accurate control under changing generation and load conditions
1 or 2 hour boost function
Wired Power Sensor extendable to 100 metres
Wireless sensor option with a 30m range
High reliability due to solid state, dual redundant design
10 Year Warranty for Wired option, 5 year warranty for Wireless option
Mains powered remote sensor
The Optimise PV Immersion Control is designed and made in Britain – quality and reliability you can depend on.